Brandishing A Weapon
What Does Brandishing a Gun Mean?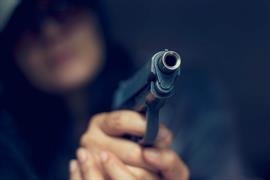 The crime of "brandishing a weapon" (also known simply as "brandishing") is contained in California Penal Code Section 417. It is committed when a person draws or exhibits (essentially waives around or shows) a deadly weapon or firearm in the presence of another person.
The act must have been done in either a rude, angry, or threatening manner; or was done unlawfully in a fight or quarrel and that was not done in self-defense or in the defense of another person at the time.
There are three additional factors contained in the statute that affect the charge: 1) The location where the weapon was brandished, such as at a day care center; 2) Whether the deadly weapon was a firearm (e.g. gun or rifle) and, 3) Against whom it was brandished (e.g. a peace officer.) There is no requirement that the weapon actually be used or discharged, that you actually harmed the victim or that they actually saw the weapon.
Brandishing is often charged along side with Penal Code Section 245(a) (1) "assault with a deadly weapon", or with Penal Code Section 422, "criminal threats." There are fundamental differences between these charges which will be explained below. Depending upon how the crime is charged, it can be either a misdemeanor or felony, and can result in state prison. In any guise, it carries a minimum 30 day county jail minimum sentence that the court must impose. Thus, brandishing is a serious charge under any circumstance.
What is the Difference Between a Deadly Weapon and a Firearm? Aren't They the Same?
A firearm is certainly a deadly weapon, but not all deadly weapons are firearms. For example, a baseball bat, depending on how it is used, can be a deadly weapon but is hardly a firearm. If a firearm is brandished, as opposed to simply a deadly weapon, the minimum sentence is 90 days in county jail. Thus it is clear that the legislature intended to punish the brandishing of a firearm more seriously than a deadly weapon because of the inherent dangerousness of firearms.
What Other Sentences Can Be Imposed?
If a firearm, whether loaded or unloaded, is brandished in front of a peace officer engaged in the performance of his or her duties, then the minimum sentence shall be 9 months in the county jail and can be up to a year in county jail. Or it can be 16 months in state prison, or 2 years or three years in state prison. In other words, it can be charged either as a misdemeanor, which results in a county jail sentence, or it can be charged as a felony, which results in a state prison sentence.
The prosecution has the discretion to decide whether to charge it as a felony or misdemeanor, depending on the circumstances. This is known as a "wobbler" crime. If a firearm is brandished at a day care center, it is also a wobbler and carries a minimum of 90 days in jail.
What is the Main Difference Between Assault with a Deadly Weapon and Brandishing?
The main difference is that you actually intend to harm the victim in an assault with a deadly weapon, something you do not need to do in a brandishing case. Often in a brandishing case the defendant merely meant to scare someone, not actually hurt them. An empty gun cannot commit an assault because it could not actually hurt someone. On the other hand, brandishing an unloaded gun violates the brandishing statute because there is not a requirement that it be loaded.
WHY SHOULD I HIRE KENNETH H. LEWIS FOR MY CASE?
Because Ken Lewis has successfully handled numerous brandishing cases. He knows the ins and outs of preparing a successful case and how to properly prepare a client and/or witness to testify. He has over 37 years practicing as an attorney in criminal cases and he will fight for you whether it is at trial, or negotiating the best possible deal!
Kenneth H. Lewis is one of the relatively few lawyers to have argued a case before the California Supreme Court, People v. Leon. He is admitted before all the courts in California, and the United States District Court for the Southern District of California, the United States District Court for the Central District of California, the United States 9th Circuit Court of Appeal, the United States Tax Court and the United States Supreme Court, where he appeared at counsel's table in the case of California vs. Rooney.